ISRAEL IN BIBLE PROPHECY
|
home


LEOPARD-BEAR-LION

There is a free printable tract on this subject with folding instructions
at this link
.
The first three of Daniel's beasts reappear together in scripture only one more time - in John's vision of Revelation Chapter 13 - but combined into a composite beast.
Revelation 13:2
And the beast which I saw was like unto a
leopard
,
and his feet were as [the feet] of a
bear
, and his mouth as the mouth of a
lion:
and
the dragon gave him
his power, and his seat, and great authority.
(
Daniel's beast is "his"
)
The seats of the ancient successive kingdom beasts of lion, bear and leopard - Babylon, Medo-Persia and Greece, are occupied today by the countries of Iraq, Iran, and Syria/Lebanon. The dragon in the verse above is Satan who gave his power, seat and authority to the beast.
While these countries and sects of Islam may have differences, and some with national sovereignty, they are all united spiritually by their false prophet Mohammed, and by their holy book the Quran. As a result, they are all filled with the
spirit of antichrist
. The belief that God has no
Son
- "shirk" - is the most important fundamental in Islam.
Sura 19:88 They say: "(Allah) Most Gracious has begotten a son!" 89 Indeed ye have put forth a thing most monstrous!
John 8:58
Jesus said
unto them, Verily, verily, I say unto you,
Before Abraham was, I am.
Exodus 3:14
And God said unto Moses, I AM THAT I AM: and he said, Thus shalt thou say unto the children of Israel, I AM hath sent me unto you.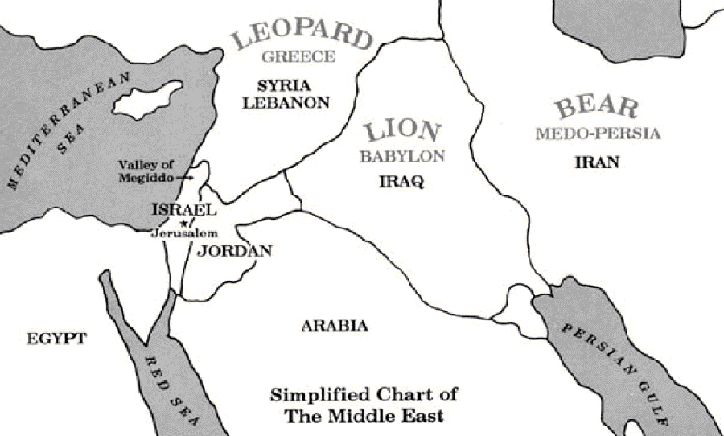 The sketch map above is an illustration of the
seat
of the
Islamic Empire "beast"
, and the countries that occupy that seat today. The Lord's interest isn't likely to lie in the artificial boundaries of men, but rather in the spiritual condition of mankind. Each of Daniel's successive kingdoms conquered the
whole civilized world
(Middle East area) in its turn.
As the the final kingdom in the succession of Middle East kingdoms that oppress God's people, the spiritual condition of the leopard-bear-lion "beast" is thus: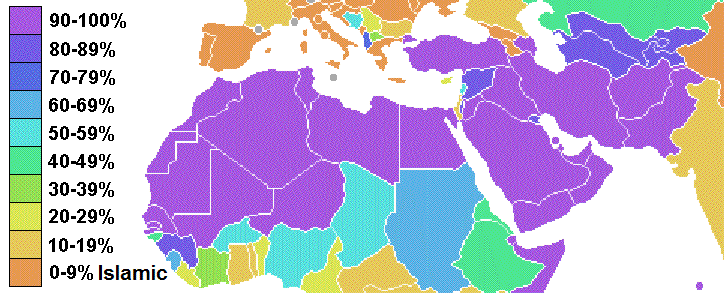 Ellis Skolfield, the author of
The False Prophet
, has written about the central role of Islam in end-time prophecy for over 27 years,
by studying within this traditional continuous-historic framework.